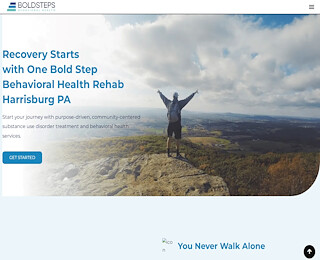 Addiction recovery services in Harrisburg PA are not few and far between. With Bold Steps Behavioral Health, comprehensive care is right around the corner. Caring and compassionate professionals are at your fingertips.
Addiction Recovery Services Available in Harrisburg
An addiction treatment center is more than a place to detox and receive basic therapy. Addiction recovery is a process that takes years. The struggle is real but you are not alone.
In Harrisburg, you can find:
Aftercare for detox
Aftercare post-hospitalization
Residential inpatient care
Intensive outpatient programs
Group Therapy
Individualized one-on one therapy
From detox to handling the challenges of life, the power to tackle your demons is in your hands. Bold Steps serves as a beacon within a storm.
Successful Addiction Recovery
Nearly 50 percent of patients exiting rehabilitation relapse within thirty days. Many leave facilities and fail to find support in their local area. South-Central Pennsylvania may seem devoid of treatment options.
This is not the case. Bold Steps is the fourth facility to open within an hour of Harrisburg.
Finding the Best Rehab
The best rehabilitation facilities provide compassionate care tailored to your needs. Everyone is unique. While treatments evolved since the first programs opened their doors in 1951, there is no one standard of care.
Your therapist should tailor your drug and alcohol rehab resources to your life. The goal of a program is to create a set of coping mechanisms to overcome any challenge.
A Positive Community for Change
Recovery is a long road. From compassionate and dedicated care that sets you on the right path on your first day in detox to the years ahead, you deserve the right level of care.
Bold Steps seeks to create an atmosphere of hope. Our detox nurses, social workers, and therapists offer compassion rather than criticism. We seek to provide solutions rather than follow a simple cookie-cutter process.
Aftercare Programs that Work
Addiction recovery is a long road. You need support to avoid a constant cycle of entering and leaving detox and treatment centers.
Our services create a safe space and support network to help overcome any challenge. We give you a life raft in a turbulent sea of triggers and stressors. You should never be alone in the quest for sobriety.
Building Local Support
Combining the knowledge and services of our professionals with an empathetic support group will further improve your chances of success. Therapists found that those using groups such as Alcoholics Anonymous had an eight to twelve percent better chance of avoiding a relapse.
Our therapists help you create the perfect program. We tailor our services to your needs.
Addiction Recovery Services in Harrisburg PA
Addiction recovery services in Harrisburg PA should put you on the path to sobriety. The quest to recovery is fraught with peril. The professionals at Bold Steps Behavioral Health offer a caring, compassionate, and knowledgeable support network.
Let our professionals guide you through your journey. Get in touch with us today to find out more. We can help you at any point in the recovery process.
Bold Steps Behavior Health
717-790-6670
4755 Linglestown Rd
Harrisburg PA 17112 US