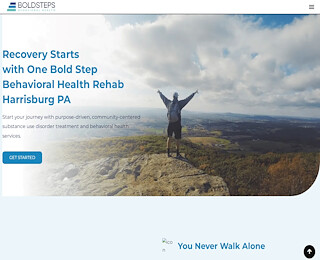 Alcohol Treatment in Harrisburg PA offers a path to a healthy and happy life. Bold Steps Behavioral Health provides dignified care personalized for your life.
Is alcohol addiction as damaging as drug addiction?
Alcohol addiction is serious. It is as damaging as any other addiction with real physical and mental consequences.
Extensive alcohol use correlates directly to diabetes, weight gain, high blood pressure, depression, mood swings, organ failure, and even malnutrition. When you let liquor control your life, the extremes are all within reach.
Prolonged use can lead to death. Nearly 140,000 people died each year between 2015 and 2019 due to abuse. That is more than 380 people per day.
How is my mood impacted by alcoholism?
Alcoholism is as impairing as hard drugs. You may feel like reaching for the bottle as a form of medicine but are actually causing more harm than good.
The mood swings alone tend to push loved ones away, causing damage beyond your own body. More than one million people even find themselves on the wrong side of the law due to a drunk driving charge, a felony in most states.
Getting in Charge of your Life
You deserve better. There is no need to feel like an outcast in your own life. While the road to recovery is long, it is rewarding.
There is nothing wrong with asking for help. Those who find the most success understand how to build support networks and place themselves in a position to receive the care they need.
What are the steps of an alcohol rehabilitation program?
Rehabilitation programs were built on decades of experience and continue to improve. They involve a series of four steps with the right aftercare once you leave an inpatient program.
Among the steps you will go through are:
Early abstinence including detox
Sustained abstinence with the help of therapy
Advanced sobriety where you use the help of therapists and others to navigate life
You are not alone. The professionals at Bold Steps are capable and willing to help you on your journey to a better life.
Using Therapy to your Advantage
There are many drug and alcohol resources at your fingertips. Therapists help you find and push through your demons.
We develop coping mechanisms to deal with the pressure to drink, beginning at an early stage of rehabilitation. You can build your defenses in a safe environment before testing yourself in your old life.
Finding a Group for the Best Possible Outcome
Treatment does not end after you leave the rehab facility. Sober living facilities, weekly therapy, and support groups noticeably improve success.
Those who build the right network relapse at an eight to twelve percent lower rate than their peers. Therapists and alcoholics anonymous work.
Alcohol Treatment in Harrisburg PA
Alcohol addiction is a serious affliction deserving of the same level of care as any other illness. Making the choice to recover is among the best you can make.
Bold Steps Behavioral Health places you in a caring community for alcohol treatment in Harrisburg PA. Get in touch with us today.
Bold Steps Behavior Health
717-790-6670
4755 Linglestown Rd
Harrisburg PA 17112 US