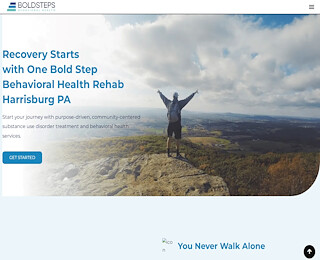 For those struggling with addiction, a local drug rehab in PA may be the best option to reclaim the life they deserve. If you are one of the many impacted by the pandemic of drug or alcohol addiction, Bold Steps Behavioral Health offers comprehensive care.
A Wide Impact
Nearly 8.5 million Americans suffered from drug and alcohol addiction in 2017. The problem did not stop at the afflicted. Family, friends, co-workers, and others all suffer.
Addiction issues have a profound and lasting impact. Legal problems, divorce, and a drain on finances carry consequences for years, decades, and even lifetimes. Choosing to tackle your demons by entering rehab is one of the best choices you can make.
The Developing Field of Rehabilitation
Addiction is defined as habitual use of a drug or other medium despite proven harm to health and well-being. It is a neuropsychological disorder that changes the brain, resulting in seemingly irresistible cravings.  No known medication or surgery can treat addiction.
Instead, medical professionals began developing rehabilitation programs in 1951. Therapies continue to evolve, becoming more effective every decade. 
Gone are the days of lobotomies. Instead, group therapy, compassion, and individualized treatment are the norm.
 Does rehab work?
There are many factors that lead to successfully kicking a habit. From finding the right therapists to removing yourself from the people, places, and stressors that lead to abuse, everything matters.
Between 50 and 60 percent of patients continue to remain sober thirty days after completely stopping treatment. Bold Steps Behavioral Health offers a caring and compassionate community and guides you as you get your feet wet as you re-enter society.
Steps in a Rehabilitation Program
There are four steps involved in today's programs. Each requires a level of care and compassion that builds defense mechanisms against the pressure to use.
These steps are:
Intake
Detoxification
Substance abuse therapy
Aftercare
Aftercare programs vary in intensity depending on your needs. Recovery can take years.
Intake and Detox
The first critical step on the journey to a healthy life is a deep cleanse. This process lasts between three and ten days, more if using a highly addictive substance.
You are not alone in this process. Skilled nurses and therapists assist you as you go through the hardest part of a rehab program.
Therapy
Substance abuse therapy follows detox.  Programs often rely on several types of therapy to build coping mechanisms within an environment of hope and positivity.
Group therapy surrounds you with empathetic people going through the same process. Individualized care helps you develop coping mechanisms to tackle your demons.
Aftercare
Treatment does not stop once you go back to work, your friends, and your family. Aftercare, whether intensive or not, helps you avoid diving directly into dangerous situations.
Bold Steps offers therapy and a live-in option. Substance abuse groups take group therapy beyond the treatment facility. Learning to use all available resources is vital for your recovery.
Drug Rehab in PA
A drug rehab in PA can help get you back on your feet. The caring and compassionate professionals at Bold Steps Behavioral Health create a caring and supportive environment, improving your chances to tackle your worst demons.
Get in touch with us today.
Bold Steps Behavior Health
717-790-6670
4755 Linglestown Rd
Harrisburg PA 17112 US