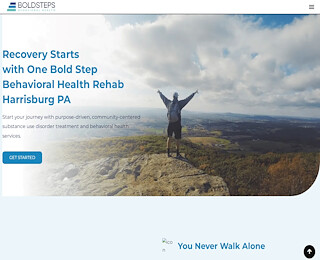 A Harrisburg PA rehab offers hope and community. Bold Steps would love to offer our support network to you in the heart of South-Central Pennsylvania.
Should I enter rehab?
Choosing to find help is the first step on the road to a better life.  Rehabilitation can be a matter of life and death.
There were over 100,000 overdose deaths in 2021, an increase of 10,000 from 2019, in an ever-growing trend. Drugs and alcohol increase blood-pressure, ruin teeth, lead to increased rates of depression, and are correlated with a higher risk of job loss.
If left to run its course, abuse will cause serious physical illness. The hidden cost of abuse can set you back even further.
The Wide Impact of Addiction
Your actions have an impact far beyond yourself. Everyone you interact with suffers as well.
Addictions have legal repercussions that can tear families and friendships apart. The stigma of addiction is not limited to yourself.
Getting the Care you Deserve
Once you make the leap to seeking help, you are not alone. There is a robust support network and many drug and alcohol resources in Harrisburg.
Bold Steps Behavioral Health seeks to provide a caring and supportive community of well-trained professionals and like-minded individuals. Your affliction deserves to be treated with the best possible level of care.
What are the steps in the rehab process?
Rehabilitation is a five step process involving tailored care. From the time you enter to the time you begin to build your support networks outside of the facility, we are available to help.
The steps involved in rehabilitation are:
Choosing to receive help, a conscious decision you must make
A three to ten day detox surrounded by skilled nurses and therapists also known as early abstinence
Group and individual therapy targeted at finding your triggers and developing coping mechanisms
Aftercare or advanced recovery in which you build the support you need to maintain sobriety
These steps formed the bedrock of most programs going back to 1951. Decades of research helped over 1.5 million people complete treatment. Many continue to remain sober today, living happy healthy lives with full careers.
Achieving Success in Alcohol and Drug Rehab
Alcohol and drug rehabilitation is a commitment. Nearly half of all people who enter treatment relapse. While success requires work, the right care makes all the difference.
Our staff treats you as a human being with the dignity you deserve. Once you complete a live-in program, you can access a sober living facility and group therapy which increase the likelihood of remaining sober by eight to twelve percent. 
Harrisburg PA Rehab
When you are ready to get your life back, a Harrisburg PA rehab is here to help. Bold Steps Behavioral Health provides a level of care rivaling better known alternatives hours away.
We offer a community and support network to help you achieve and maintain sobriety. Get in contact with us today and find out how we can make a difference in your life.
Bold Steps Behavior Health
717-790-6670
4755 Linglestown Rd
Harrisburg PA 17112 US