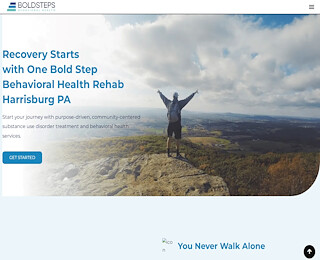 Boldsteps Behavioral Health is a renowned provider of mental health and addiction treatment services in Harrisburg, Pennsylvania. The aim of this article is to delve deeper into the meth addiction treatment options available at Boldsteps Behavioral Health in Harrisburg.
Meth addiction is a severe issue not only in Harrisburg but also in many parts of the country, and Boldsteps Behavioral Health offers various treatment options to help those struggling with meth addiction.
Meth Addiction: Signs and Symptoms
Meth addiction is a chronic condition that affects an individual's physical and mental health. The common signs and symptoms include weight loss, tooth decay, skin sores, aggression, paranoia, and mood swings. The risks associated with meth addiction include heart attack, stroke, and mental health disorders such as anxiety, depression, and psychosis. Meth addiction is a severe problem that requires professional help to overcome.
Meth Addiction Treatment Options
Boldsteps Behavioral Health offers personalized treatment plans for those struggling with meth addiction. They have a wide range of treatment options, including Partial Hospitalization Program (PHP), Intensive Outpatient Program (IOP), and outpatient services. Their treatment plans are customized based on the individual's unique needs.
A personalized treatment plan is essential for meth addiction recovery because each person's addiction and recovery journey is unique. Boldsteps Behavioral Health understands this and tailors their treatment options to meet the individual needs of each patient.
PHP Treatment for Meth Addiction
PHP is an intensive treatment program that provides a structured and supportive environment for those in recovery. Boldsteps Behavioral Health's PHP treatment for meth addiction is designed to help patients overcome addiction and regain control of their lives. The program includes individual therapy, group therapy, and medication management. Patients receive individualized care from highly trained professionals.
PHP is a particularly effective treatment option for meth addiction because it provides a structured environment that helps patients develop healthy habits and coping mechanisms. The patients have access to a supportive community of peers and professionals that help them work through their addiction and recovery.
IOP and Outpatient Services for Meth Addiction
Boldsteps Behavioral Health offers Intensive Outpatient Program (IOP) and outpatient services for those seeking meth addiction treatment. IOP provides a more intensive level of care than outpatient services but is less structured than PHP. IOP patients receive individual and group therapy sessions, as well as medication management. Outpatient services are the least intensive treatment option but can be useful for those with mild addiction.
Dual Diagnosis and Medication Management for Meth Addiction
Co-occurring mental health disorders are common in those struggling with meth addiction. Boldsteps Behavioral Health offers dual diagnosis treatment options to address these issues in conjunction with meth addiction treatment. Patients receive personalized care that addresses both addiction and any co-occurring mental health issues.
Medication management is also an essential component of meth addiction treatment, as it can help manage withdrawal symptoms and cravings. Boldsteps Behavioral Health has highly trained professionals who provide medication management to ensure that patients receive the best care possible.
Intervention Services for Meth Addiction
Intervention services are available for loved ones of those struggling with meth addiction. These services can help loved ones stage an intervention and get their loved one into treatment. The professionals at Boldsteps Behavioral Health can help families and friends of those struggling with addiction create an intervention plan that is tailored to the individual's needs.
Get Meth Addiction Treatment Harrisburg at Boldsteps Behavioral Health
Boldsteps Behavioral Health is committed to helping those struggling with meth addiction. They offer a wide range of meth addiction treatment options in Harrisburg, including PHP, IOP, outpatient services, dual diagnosis treatment, medication management, and intervention services.
It is crucial for those struggling with meth addiction to seek help and explore their treatment options with a reputable provider like Boldsteps Behavioral Health. The highly trained professionals at Boldsteps Behavioral Health provide individualized care and sympathetic addiction treatment services in an environment that is conducive to long-term recovery.
Bold Steps Behavior Health
717-790-6670
4755 Linglestown Rd
Harrisburg PA 17112 US