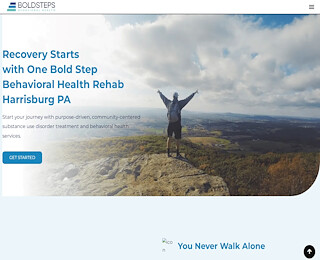 Rehab does not stop at the door. You will often be left wondering if you can find an outpatient program near me. Bold Steps Behavioral Health seeks to help you get back on your feet by providing care well after leaving inpatient treatment.
The Rehabilitation Process
Rehabilitation is not as simple as entering a facility, going through a multistep program, and then leaving cured of addiction. Nearly 40 to 60 percent of patients relapse within 30 days with another 25 percent succumbing to pressures within one year.
The entire process involves detoxification, therapy, and then re-entering society with the support of a well-trained group of quality professionals capable of attending to your every need. Each step works to create the coping mechanisms you need to defend against cravings.
What is the difference between outpatient and inpatient care?
You can further break down each step into one of two categories. Inpatient care comprises everything up to leaving a treatment facility.
Outpatient care involves everything that happens after you leave. Triggers do not simply disappear. The techniques learned in inpatient care must survive contact with the enemy. We are here to help with intensive outpatient programs, IOPs.
What does the best outpatient care provider offer?
The best local IOP program offers the support you deserve in a caring and humanitarian environment. You have all of the tools at your fingertip to buck the trend and succeed.
Intensive programs that work give you a spot to lay your hat when the outside world begins to tear down your barriers. Bold Steps Behavioral Health includes rooms for our patients along with around the clock care.
Creating a Defense against Relapse
Your defenses require the right environment to function. The people, places, and care you exist within matter.
There will come a time when you need to extract yourself from the pressures of a previous life. Our residential programs are the perfect reprieve from these problems.
Community and Hope
Bold Steps offers more than a simple room and counselors. We pride ourselves on creating an environment you can thrive in.
Our caring and innovative approach to care seeks to guide and strengthen, not chastise. Build the strength you need to power through the toughest situations. Do not let life get in the way of success.
IOP Locations Nearby Harrisburg
Everyone needs a way out. In Harrisburg, Pennsylvania, Bold Steps is on your side. From detox to homecoming, we are there to help you thrive.
Our personalized care goes beyond simple group sessions. We want you to win.
Addiction is a demon that is tough to beat. Despite the best intentions, many succumb to their old lifestyle after leaving rehab. Anyone suffering from this nationwide pandemic may ask themselves where there is an outpatient program near me.
Bold Steps Behavioral Health seeks to create the change you need. Our caring staff and home away from home are the perfect option for those yearning for a change.
Get in touch with us today. Take the steps to a better self.
Bold Steps Behavior Health
717-790-6670
4755 Linglestown Rd
Harrisburg PA 17112 US