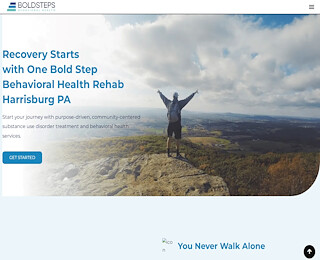 There are many rehabs in PA. Not every center for addiction offers quality care. Bold Steps Behavioral Health seeks to provide the best possible care with a comprehensive solution from intake to aftercare.
Where can I find a rehab in Pennsylvania?
There is an addiction treatment center in almost every major city in the state. Pittsburgh and Philadelphia all have options. Options become far more limited in rural parts of the state despite an intense need for help.
Harrisburg offers the best opportunity for those in South-Central Pennsylvania to find care. Bold Steps Behavioral Health exists within town limits for anyone looking for a rehab facility or post-treatment help.
Benefits of a Local Rehab Facility
While you can choose to travel hours to the nearest therapist, this is not always an option. The pressure to use is not constant. It ebbs and flows depending on your needs.
A single event such as meeting an old friend can have disastrous consequences up to and including death. In these times, locality matters.
Among the benefits of local care are:
Readily available staff
Intensive Outpatient programs
Therapists that know your community
Lower transportation costs
Everyone deserves care. Having a small commute puts a powerful tool in your toolbox from which to defend against cravings.
Local Outpatient Care
A local facility in Pennsylvania offers something that a long commute does not, the ability to get your feet wet when re-entering society without jumping right into life. Being able to visit a therapist weekly after work, school, or any other event is beneficial to anyone going down the path to a full recovery.
You may even be able to find a spot to get away from the people and places that pose a risk without entirely removing yourself from life beyond a rehab facility. Your local outpatient care program is among your best drug and alcohol rehab resources.
Intensive Outpatient Care
Outpatient care involves more than group therapy or weekly sessions. Intensive outpatient programs, IOPs, go a step beyond.
Bold Steps offers patients the opportunity to receive around the clock at a sober-living facility. This option works well when the pressure to use is insurmountable.
Best Rehab Centers in Pennsylvania
Relapse rates within thirty days of exiting a program lie between 40 and 60 percent. Avoiding becoming a statistic requires finding a caring environment and the right mix of services.
Our therapists are here to help around the clock. Mixing our services with an empathetic group of individuals going through the same process as you can help you avoid becoming a statistic.
Rehabs in PA
There are many rehabs in PA. Not all are equal. Getting on top of the struggle with addiction means finding a supportive community and caring professionals that understand your needs. Local programs are even more critical.
Bold Steps Behavioral Health strives to offer the best quality care in Harrisburg, Pennsylvania. Do not let your location be a burden. Get in touch with us today and start on the path to drug and alcohol addiction recovery.
Bold Steps Behavior Health
717-790-6670
4755 Linglestown Rd
Harrisburg PA 17112 US